Affiliate Disclosure: We may earn commissions from purchases made through links in this post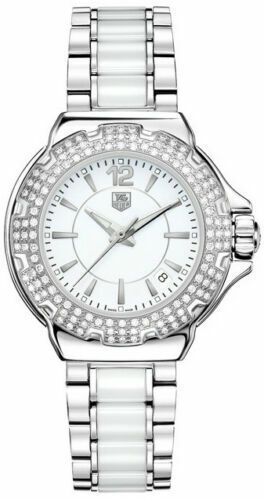 TAG HEUER FORMULA 1 WAH1215.BA0861 DIAMOND BEZEL CERAMIC & STEEL LUXURY WATCH
Information below provided from eBay listing.
TAG HEUER FORMULA 1 WAH1215.BA0861 DIAMOND BEZEL CERAMIC & STEEL LUXURY WATCH SAVE OFF RETAIL SUGGESTED RETAIL $3600 PRE-OWNED IN THE BOXEXCELLENT CONDITION GUARANTEED AUTHENTIC COMES WITH 1 YEAR WARRANTY AND MANUFACTURER'S SERIAL NUMBERS PRE-OWNED IN THE BOX LADIES TAG HEUER FORMULA 1 LUXURY SWISS QUARTZ WHITE CERAMIC AND STAINLESS STEEL WHITE DIAL DIAMOND BEZEL WOMEN'S TIMEPIECE WRISTWATCH MODEL # WAH1215.BA0861 WAH1215BA0861 WAH1215 BA0861 Size:LadiesCase:Stainless SteelBand:Stainless SteelBuckle:Deployment BuckleDial:White dialBezel:Stainless Steel With 120 diamondsModel Number :WAH1215.BA0861Crystal:Scratch Resistant sapphireMovement:Swiss Quartz MovementFeatures:Diamond BezelSeries:Formula 1, F1Width:38 mmThickness:10 mmBracelet:Will fit a 61/2 inch wristGrade:Mint ConditionBox:Box Included International buyers please read before you purchase. We ship our items for the exact value. All payments must be made by paypal. All International shipments are made with FEDEX, there will be additional VAT, import taxes, duties, or fees when the item arrives in your country. We are not responsible to know your customs rules and regulations and not held accountable for these applicable fees. We recommend you contact your local customs office to find out what these fees will be PRIOR to bidding on our item. If the item is shipped back to us because of non payment of duties, FEDEX will charge us for return shipping, which will be deducted from your refund. Shipping insurance is included on all shipments. We no longer ship to MEXICO, SPAIN, AND RUSSIA. We do apologize for your inconvenience. You are more than welcome to use ebay's global shipping program.*****ALL RETURNS ARE SUBJECT TO A 15% RESTOCKING FEE. NO EXCEPTIONS***** Thank you for Choosing Quartz Watches . Your online source for Luxury Swiss Watches. We carry a large selection of Watches at wholesale liquidation closeout discounted prices. All our watches are GUARANTEED to be Authentic. Our number one priority is your satisfaction. Please visit our Ebay Store for more selection of watches. We will only ship to Confirmed paypal addresses. We recommend paypal payments. If you are buying one of our Pre-owned Luxury Timepieces, just remember that there might be some very minor scratches from normal use. We are not affiliated with any manufacturers. We BUY, Sell and Trade watches. If you would like to trade a watch in, let us know. We appreciate your business. Thank you, and Happy Ebaying. Check out my other items! 
Buying A Luxury Wristwatch

Forget functionality, a luxury watch attached with a wrist simply always seems to be a major enhancement to any wardrobe. Brands like Rolex, Cartier, Patek Philippe, TAG Heuer, yet others carry an air of prestige that certainly display the degree of a success that is person's as well as command respect and admiration for the perfected craftsmanship in which these items are created.

While the purpose that is main of watches is always to tell time, numerous of today's models offer advanced functionality. Some of these strange options include two-way radio capability, tiny computers, even GPS. Consider evaluating your watch to get away where you are positioned if you become lost! It's incredible just what these prestigious organizations have come up with.

Just as if this wasn't enough, some watchmakers have selected to exceed even these state-of-the-art options. Some watchmakers actually offer watches which will last a life time, a true luxury in which the owner never ever has to start thinking about purchasing another watch ever once more, but needless to say, if they have the excessive sum of money it takes to purchase one watch then they will most likely buy another one eventually.

Then there are a few things you should consider when making a purchase if you happen to find yourself lucky enough to be in a position to buy a luxury watch. Also if you will most most likely purchase a high quality time piece from whichever manufacturer you decide on, it is nevertheless advisable to complete only a little research when purchasing such an costly item.

Firstly all, there are two various kinds of luxury watches to choose from; a automated watch and a quartz watch. Other than the very fact that it runs on batteries, there isn't much uniqueness to a quartz wristwatch; however, it is more affordable than an automatic watch.

An automatic watch does not run on batteries; instead, it operates according to your physical movement of the person wearing it, meaning that if you go a long period of time without putting on the wristwatch it'll stop, requiring you to wind it and shake it several times to get it working once more. There are two types of automatic watches; caliber automatic watches and standard automated watches. The differences between the 2 are very little, but they bear mentioning. As mentioned, automatic watches do not require batteries; nonetheless, over time of time has passed, the time they keep is often somewhat off. A caliber watch that is automatic better precision. For example, a standard watch that is automatic after being worn for a month, is typically off by about 12 minutes. A caliber watch though, is only off by two minutes.

In addition, a standard automatic watch will continue steadily to run for 36 times before stopping, while a caliber automatic wristwatch will run for 50 days. As you might imagine, a caliber watch that is automatic the more high priced of the two.

Which watch you decide on ultimately depends on your taste and sense of style. Buying a luxury wristwatch is a expenditure that is hefty make sure you will get precisely what you want and so it is suits your lifestyle, and lastly, enjoy while shopping. At this point you know what to consider, which really should not make you with too concerns that are many. All luxury watchmakers provide top quality timepieces.

To buy an extra wristwatch you desire a discerning eye. Beauty is based on the eyes of the beholder, and only a connoisseur that is true tell the huge difference. They have flair for style and quality. They choose their watches with just as much care as they'd choose a home to live in. They compare brands, quality and prices. They start thinking about various facets such as for instance mechanisms, escapements, complications, dials and many more factors that are aesthetic watch bands and bezels. They enjoy considering various brands up to they love buying the watch that's near to their heart. Things To Consider Before Buying A Wrist Watch

Purchasing a luxury watch these days is not as simple as it as soon as was. In reality, if you are considering a luxury watch purchase, listed here are some things you might wish to imagine about.

1. Watch Case Size: With the variety that is extensive watches these days comes a variety of case sizes to consider. From the larger instances offered by names like Ulysse Nardin to your average sized cases like Chronoswiss tends to produce, you should select a size that meets your needs that are personal.

2. Your Personal Style: Who you really are ought to be reflected in what you wear. If you should be progressive and bold, wear something that makes a statement like a Franck Muller. If you love innovation, consider purchasing a Piaget.

3. Your Specific Purpose: Before you purchase a luxury watch, think about your requirements. In the event that you simply need something to wear to the workplace, maybe a formal patek phillipe will do the trick. A BlancPain Leman Perpetual Calendar would be more efficient if you need something for a day on the yacht. Consider where you shall be putting on the wristwatch before you make the purchase.

4. The Extras: Luxury watches come with GPS technology, two way radios, and a number of numbering systems. Think about which added benefits might actually be useful to you and be certain to look for a watch who has what you would like.

5. Your Personality: Only those in love with style should buy Bvlgari. Similarly, only those who wish to be first should consider IWC. Think about what you would like to state with your timepiece, make the luxury then watch purchase that best matches your needs.

6. The Brand: Brand names are everything in this industry. Buying a wristwatch from the discount store or a knock-off luxury wristwatch simply won't do so if you'd like to make the right impression. Look for the brand that matches your ideals as you shop.

7. The Exclusivity: Some watches are created for plenty of people, plus some luxury watches, like those created by Vacheron Constantin are just for the few. Consider whether you are looking for something with limited production numbers or something many are able.
Making a Statement With A Luxury Watch
Have actually you ever considered what your watch says about you? Do you simply make use of it to determine whether or perhaps not you have enough time to stop for the coffee before your meeting or do you put it to use in order to make a declaration? Increasingly, individuals are turning to watches as a luxury accessory that says up to your selection of clothing may. Fashion gurus agree. Albert Bensoussan, director of Louis Vuitton Watches, in an interview with the Global Herald Tribune, said "It is not so much about telling time any more . . . It's about self-expression."What Expression Are You Wanting To Make?
The thought that goes into your fine watch selection should be just as important as the thought that goes into any other part of your wardrobe from deciding on the type of band that best suits your needs to the color of the face to whether or not you want to include precious stones. You'dn't put on a wrinkled cotton t-shirt to meet up having an client that is important. Why wear a watch from a discount shop?Factors to Think About
Your Personality: you probably want a luxury watch that is less formal like a Franck Muller if you have a fun, laid back personality. a personality that is bold indicate that you need an original, cutting-edge watch that will display your self- confidence well. Think about who you really are, and allow your watch assistance that statement is made by you.

Your Sense of Style: Think about your standard dress. If it's the suit and tie crowd, you need something with a precious rock or certainly something more proper when compared to a sports musical organization. A luxury sports watch like one made by Omega is going to be your style if, on the other hand, you run a diving shop in the islands. Girard-Perregaux is certainly one company that appears to understand style well, and their watch offerings match the time to day requirements of numerous. Your preferences: You must have a wrist watch that is on par together with your to day needs day. Being a outcome, if your watch wearing needs vary from formal to casual, significantly more than one luxury wristwatch is advisable.

Consider that which youare looking for out of every aspect, therefore the purchase of one's next luxury wristwatch is smoother that is much.