Affiliate Disclosure: We may earn commissions from purchases made through links in this post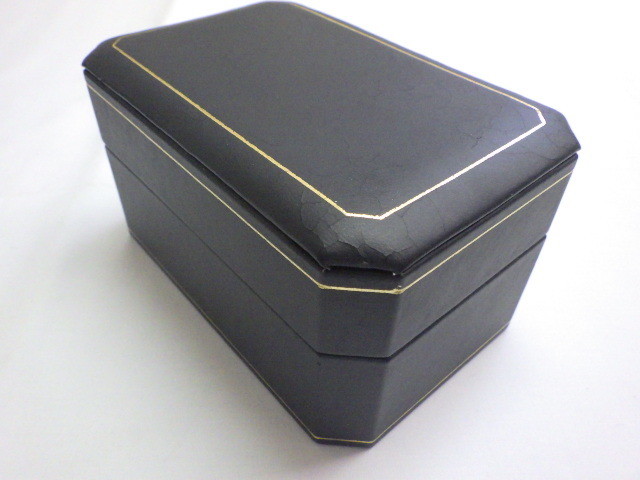 CHAUMET luxury watch box
Description
Item Condition : 【4】Good. There are some scratches,stain and used feeling.
It's a used item.
There is a feeling of used on the whole.
There are dirt, scratches, rubs on whole parts.
【N】New.Not used.

【S】Almost new.

【6】Excellent. A slight used.

【5】Great. There are a few scratch,stain and used feeling.

【4】Good. There are some scratches,stain and used feeling.

【3】Fair.Has been used obviously.There are scratches,stain and used feeling.

【2】Poor.Has been used obviously.There are many a wound/ dirts and used feeling.

【1】Recycle (might need to repair)
No497  CHAUMET ショーメ 高級 BOX 箱
Payment
We only accept PayPal payments.

Please pay within 3 days after auction is finished.
Shipping is only available to the address registered in PayPal.

Please note that any address not registered in PayPal is not acceptable to ship.
Shipping
Free Shipping Worldwide!!
Shipping Duration
Shipping

Method
Asia
North America

Central America

Middle East

AU, NZ
Europe

Russia
South America

Africa
EMS
3 – 6 days
4 – 6 days
3 – 5 days
4 – 6 days
ePacket
3 – 7 days
5 – 12 days
4 – 8 days
6 – 8 days
Excludes: Japan  
EMS
(Recommend)

1.Fast and reliable registered airmail shipping

2.With tracking number(detailed tracking)

3.With full insurance

4.Usually, 3-7 business days to receive
epacket

1.Registered airmail shipping

2.With tracking number

3.With a little insurance (under 6,000 yen(about US$50))

4.Usually, 7-14 business days to receive
In some cases, YAMATO TRANSPORT may be used.
Terms of Sale
Money back guarantee within 60 days if returned by customer.
1)Welcome to wholesale and purchase, if you have any question, please contact us first. We will reply you within 24 hours.(except weekends and holidays).

2)Our normal business hour is Monday through Friday 9 AM to 6 PM Japan Time. All emails and orders will NOT be processed during weekends and holidays.

3)We will leave positive feedback to buyer as soon as buyer pays for the item. We highly appreciate that you can contact us before you leaving Negative feedback or Neutral feedback. We will offer help to resolve your problems as fast as possible.
The item which I have listed are very popular items.

Since it may be rarely sold out, contact me before purchasing.
If you have any issues with an item upon receiving it,

please don't hesitate to contact us. We are here to help!
About Us
Relax and enjoy.

Welcome to Japanese goods shop !!!

I am Japanese and live in Japan.

I offer good quality Japanese items.

If you can not find the item you are looking for, Please feel free to ask us!
Story –

I deal mainly with Japanese fashion, audio, and books.

I earlier, I was a white-collar worker in Japan.

However, I learned that there are many people who need Japanese goods all over the world.

The Internet is popular in the world I decided to sell Japanese goods, resigned the white-collar worker.
Mission –

I want to serve you.

I want to see your happy face.
International Buyers – Please Note:
Import duties, taxes, and charges are not included in the item price or shipping charges.

These charges are the buyer's responsibility.

Please check with your country's customs office to determine what these additional costs will be prior to bidding/buying.

These charges are normally collected by the delivering freight (shipping) company or when you pick the item up – do not confuse them for additional shipping charges.
CHAUMET luxury watch box
Purchasing A Luxury Wristwatch

Forget functionality, a luxury wristwatch attached to a wrist simply constantly generally seems to be a major improvement to any wardrobe. Brands like Rolex, Cartier, Patek Philippe, TAG Heuer, and others carry an air of prestige that certainly display the degree of a person's success, as well as command respect and admiration for the perfected craftsmanship in which these items are created.

While the purpose that is main of watches is always to tell time, many of today's models offer state-of-the-art functionality. Some among these options that are peculiar two-way radio capability, small computers, even GPS. Think of considering your wristwatch to get down where you might be located if you become lost! It's incredible exactly what these companies that are prestigious appear with.

As if this wasn't enough, some watchmakers have opted for to exceed even these state-of-the-art choices. Some watchmakers actually offer watches that may last a lifetime, a genuine luxury by which the owner never has to consider purchasing another wristwatch ever again, but needless to say, if they've the exorbitant amount of money it takes to purchase one wristwatch then they'll most likely buy another one eventually.

Then there are a few things you should consider when making a purchase if you happen to find yourself lucky enough to be in a position to buy a luxury watch. Even you decide on, it is still a good idea to do a little research when buying such an expensive item though you will most likely purchase a high quality time piece from whichever maker.

To begin all, there are two several types of luxury watches to choose from; a automated watch and a quartz watch. Other than the fact it is less expensive than an automatic watch that it runs on batteries, there is not much uniqueness to a quartz watch; however.

An automatic watch does not run on batteries; instead, it runs according to your physical movement of the person wearing it, meaning that if you go a long period of time without using the watch it's going to stop, needing you to breeze it and shake it several times to get it working again. There are two types of automatic watches; caliber automatic watches and standard watches that are automatic. The differences when considering the two are not much, but they bear mentioning. As previously mentioned, automated watches do not require batteries; nevertheless, after a period of time has passed, the time they keep is commonly somewhat off. A caliber watch that is automatic better precision. For example, a standard automated watch, after being worn for a month, is typically off by about 12 minutes. A caliber watch though, is only off by two minutes.

In addition, a regular automatic watch will continue to run for 36 days before stopping, while a caliber automatic wristwatch will run for 50 days. As you might guess, a caliber automatic wristwatch is the more costly for the two.

Which watch you decide on ultimately varies according to your sense and taste of style. Purchasing a luxury watch is a expenditure that is hefty make sure you're getting exactly what you want and it is suits your way of life, and finally, have a great time while shopping. You now know what to find, which really should maybe not make you with too many concerns. All luxury watchmakers provide high quality timepieces.

To purchase an extra wristwatch you desire a discerning eye. Beauty lies in the eyes of the beholder, and just a true connoisseur can tell the distinction. They have a flair for design and quality. They choose their watches with the maximum amount of care as they would choose a home to reside in. They compare brands, quality and prices. They consider different facets such as for example mechanisms, escapements, complications, dials and numerous more factors that are aesthetic watch bands and bezels. They enjoy evaluating various brands as much as they love buying the watch that's near to their heart. Things To Consider Before Buying A Wristwatch

Purchasing a luxury watch these full days isn't as easy as it as soon as had been. In fact, if you are considering a luxury wristwatch purchase, here are some things you might desire to think about.

1. Watch Case Size: because of the variety that is extensive watches these days comes a number of different case sizes to consider. From the larger situations offered by names like Ulysse Nardin to your average sized cases like Chronoswiss has a tendency to produce, you ought to choose a size that meets your personal requirements.

2. Your Personal Style: Who you are must certanly be mirrored in everything you wear. If you are bold and progressive, wear something that makes a statement like a Franck Muller. If you'd prefer innovation, consider purchasing a Piaget.

3. Your Specific Purpose: Before you purchase an extravagance watch, think about your requirements. If you simply need something to wear to your office, perhaps a formal patek phillipe will do the trick. If you require something for a day regarding the yacht, a BlancPain Leman Perpetual Calendar would be much more efficient. Consider where you shall be wearing the watch before you make the purchase.

4. The Extras: Luxury watches come with GPS technology, two way radios, and a variety of numbering systems. Give consideration to which benefits might actually be useful to you and be sure to look for a watch who has what you would like.

5. Your Personality: Only those in love with design should purchase a Bvlgari. Similarly, only those who want to be first should think about IWC. Consider what you need to state with your timepiece, make the luxury then wristwatch purchase that best matches your needs.

6. The Brand: Brand names are everything in this industry. Buying a wristwatch from a discount shop or a knock-off luxury watch just won't do so if you would like make the right impression. Look for the brand that matches your ideals as you shop.

7. The Exclusivity: Some watches are designed for lots of people, and some luxury watches, like those created by Vacheron Constantin are just for the few. Consider whether you are looking for something with limited production numbers or one thing many can afford.
Making a Statement With A Luxury Watch
Have actually you ever considered what your watch claims in regards to you? Do you simply make use of it to decide whether or maybe not you have enough time to stop for the coffee before your meeting or do it is used by you to create a declaration? Increasingly, folks are turning to watches being a luxury accessory that says just as much as your selection of clothing may. Fashion gurus agree. Albert Bensoussan, director of Louis Vuitton Watches, within an meeting with the Global Herald Tribune, said "It is not really much about telling time any more . . . It's about self-expression."What Expression Do You Want To Make?
The thought that goes into your fine watch selection should be just as important as the thought that goes into any other part of your wardrobe from deciding on the type of band that best suits your needs to the color of the face to whether or not you want to include precious stones. You wouldn't put on a wrinkled cotton t-shirt to meet up with with an client that is important. Why wear a watch from a discount store?Factors to Consider
Your Personality: If you have a fun, laid back personality, you most likely want an extravagance wristwatch that is less formal like a Franck Muller. a personality that is bold indicate that you need to have a unique, cutting-edge watch that may display your confidence well. Consider who you are, and allow your watch help that statement is made by you.

Your Sense of Style: Think regarding the standard dress. If it's the suit and tie crowd, you need something having a valuable rock or certainly something more proper than the usual sports band. If, on the other hand, you run a diving shop in the islands, an extravagance sports watch like one made by Omega will probably be your design. Girard-Perregaux is one company that seems to understand design well, and their wristwatch offerings match the day to day needs of numerous. Your preferences: you'll want a wrist watch that is on par along with your to day needs day. Being a outcome, if your watch wearing needs vary from formal to casual, significantly more than one luxury wristwatch is advisable.

Consider what youare looking for from every aspect, and also the purchase of your next luxury wristwatch should really be smoother that is much.